Cleanrooms are employed to ensure contamination control. The design, construction and operation of the facility all support this goal. Success (or failure) is determined through audits and certification. Cleanroom certification—usually by a third party—reviews and tests the many operating parameters of the room. For USP 797, 800 and other aseptic facilities, viable testing is an important part of the certification process.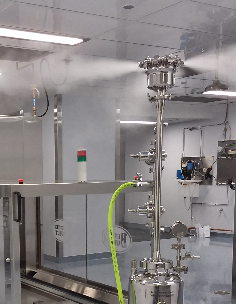 Viable testing is performed via air sampling and surface contact plates. Colony forming units (CFUs) are measured and compared to limits corresponding to the room's ISO classification. Deviation from the expected results can shut-down operations until remediation efforts are put into effect and the cleanroom is re-tested.
For this reason, an all-hands "superclean" is often performed just prior to certification. This provides the best opportunity to meet sterility requirements. However, manual cleaning sometimes fall short. The spray-and-wipe double or triple clean process is prone to human error and/or limited by physical access to some surfaces. Chemical fogging of the facility can ensure success.
The Sterile Science Dry Fog process uses a peracetic acid-hydrogen peroxide solution and provides a 6-log kill of even the most challenging organisms. Not just floors and worksurfaces: The Dry Fog vapor treats every surface including hard-to-reach locations and even microscopic gaps and scratches. This reduces the room's bioburden to effectively zero. An ideal condition when heading into an annual or semi-annual cleanroom certification.
Sterile Science technicians can clean and bio-decontaminate your cleanroom in preparation for your regularly scheduled room certification. The DF2S Dry Fog equipment is also available for purchase. Sterile Science provides the project plan and on-site training for your in-house team to be fully prepared anytime complete bio-decontamination is required. Contact Sterile Science for details.